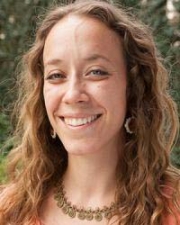 Rebecca Tarvin
Title
Assistant Professor
Department
Dept of Integrative Biology
Research Expertise and Interest
natural history
,
molecular genomics
,
phylogenetics
Research Description
Rebecca Tarvin is broadly interested in integrating studies of natural history with molecular genomics and phylogenetics. Specifically, she aims to elucidate causal genetic mechanisms underlying novel traits, characterize phenotypic diversification at macro and micro-evolutionary scales, and identify factors that promote and constrain biodiversity. Research in her lab often involves merging fieldwork, labwork, and bioinformatics to elucidate the molecular mechanisms and evolutionary forces underlying adaptive traits. Current projects in the lab focus on chemical defense evolution in frogs, flies, snakes, and nudibranchs.
In the News
February 3, 2022
While frog and salamander declines worldwide have made scientists outspoken about the need to preserve amphibian genetic diversity, two University of California, Berkeley, biologists emphasize another important reason for conserving these animals: their poisons.