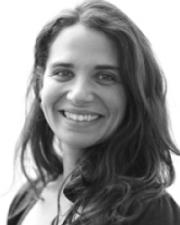 Rebecca Abergel
Title
Assistant Professor
Department
Dept of Nuclear Engineering
Research Expertise and Interest
Heavy element coordination and biological chemistry for new decontamination
,
separation
,
and radiotherapeutic strategies
Research Description
Rebecca Abergel is an assistant professor in the Department of Nuclear Engineering at UC Berkeley and the Heavy Element Chemistry Group Leader within the Lawrence Berkeley National Laboratory's Chemical Sciences Division.
The multidisciplinary research undergone in Abergel's group is at the interface of coordination chemistry, nuclear chemistry, radiochemistry, photophysics, chemical biology, health physics, pharmacology, and molecular and cellular biology. The group studies the effects of heavy element exposure and contamination on different biological systems in addition to the coordination chemistry and metabolic properties of lanthanide and actinide complexes formed with synthetic and biological ligands. Goals are to gain a better understanding of the biological coordination chemistry and toxicity mechanisms of the f-elements and to develop specific strategies for decontamination, remediation, separation, and radiopharmaceutical development.
Abergel also leads a large collaborative effort on the development of new drug products for the treatment of populations contaminated with heavy metals and radionuclides. One of these products was granted an Investigational New Drug status from the U.S. Food and Drug Administration in 2014 and is now entering a Phase I clinical trial.
In the News
November 26, 2019
Honorees recognized for achievements in heavy element chemistry, tectonics, microbial photosynthesis, geological processes, particle physics, and biomolecular engineering
November 26, 2019
Five Berkeley faculty members have been named fellows of the American Association for the Advancement of Science (AAAS), an honor bestowed upon the society's members by their peers. The five are among 443 members awarded the honor because of their scientifically or socially distinguished efforts to advance science or its applications. Founded in 1848, the AAAS is the world's largest general scientific society and publisher of Science and five other journals.
September 12, 2019
When chemist Rebecca Abergel and her team at the U.S. Department of Energy's Lawrence Berkeley National Laboratory (Berkeley Lab) successfully developed an anti-radiation-poisoning pill in 2014, they hoped it would never have to be used. Designed to remove radioactive contaminants from the body in the event of something horrible, like a nuclear reactor meltdown or, even worse, a nuclear attack, the pill may also double as an anti-gadolinium-toxicity pill for MRI patients injected with commonly used contrast dye.