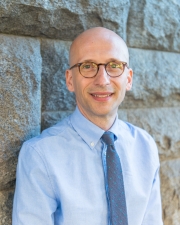 Paul Sterzing
Title
Associate Professor
Research Expertise and Interest
Polyvictimization
,
Bullying
,
Microaggressions
,
Microaffirmations
,
Youth Violence
,
family violence
,
prevention
,
Mental and Behavioral Health
,
trauma
,
Risk and Protective Factors
,
Vulnerable Children and Adolescents
,
Sexual and Gender Minority Youth and their Families
Research Description
Paul R. Sterzing, PhD is an associate professor in the School of Social Welfare at the University of California Berkeley. He is interested in the polyvictimization experiences of vulnerable adolescent populations including sexual and gender minority youth, children with disabilities, and child welfare involved youth. He recently conducted SpeakOut, a study funded by the National Institute of Justice, to identify the familial pathways that lead to differential rates of polyvictimization for a large national sample of sexual and gender minority youth.