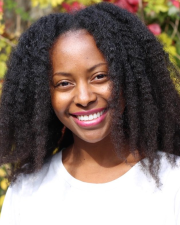 Patrice D. Douglass
Title
Assistant Professor
Department
Dept of Gender and Women's Studies
Research Expertise and Interest
black feminist theory
,
Afro-pessimism
,
gender and sexual violence
,
political philosophy
Research Description
Patrice D. Douglass is an Assistant Professor of Gender and Women's Studies at UC Berkeley.  Her first book project, tentatively titled, "Engendering Blackness: The Ontology of Sexual Violence" , examines the relationship between sexual violence and modern racial slavery and finds it not only inseverable but also fundamental to the structural predicaments facing Blackness in the present. By interrogating the sexual status of the slave, "Engendering Blackness" contends that the sexual violability of slaves is often misappropriated by frameworks on sexual violence—such as those espoused by feminist philosophy and feminist legal theory—that privilege its occurrences as a question of ethics, power, and feminine orders of gendering. Rather, this book foregrounds Blackness as engendered by sexual violence, which forcefully (re)produces Blackness, corporeally and conceptually, as a condition that lacks the capacity to ontologically distinguish its suffering from what it means to "be" Human.
She holds a PhD and MA in Culture and Theory from the University of California, Irvine, a MA in Ethnic Studies from the University of California, Riverside, and a BA in Feminist Studies and Legal Studies from the University of California, Santa Cruz.