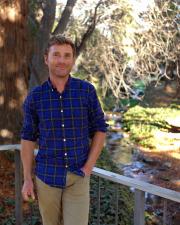 Noah Whiteman
Title
Associate Professor
Department
Dept of Integrative Biology
Research Expertise and Interest
evolutionary biology
,
genomics
,
host-parasite interactions
,
adaptation and rates of evolution
,
population genetics
Research Description
We use a vertically-integrated approach to study adaptations involved in the evolution of parasitism and host resistance. Tools we use include those from biochemistry, experimental evolution, genetics and genomics, molecular biology, and neuroscience. We hope to unravel how the genomes of free-living organisms change evolutionarily to facilitate the evolution of parasitism, which is one of the most common strategies of life. We also are interested in the genetic basis of host defense against parasites and how hosts and parasites co-evolve over short and deep evolutionary time.  To address these questions, we use a model host-parasite system involving a parasitic fly genus nested in the Drosophila lineage (Scaptomyza flava) and the genetic model plant Arabidopsis thaliana as a host. These two species interact in nature and both have substantial genomic resources and molecular tools. Adult females of S. flava use their cutting ovipositor that serves as both an egg-laying organ and a trophic organ. The egg hatches into a larva, which then creates a mine in the leaf, where it completes development. To pursue this research, we are supported by an Outstanding Investigator Award from the National Institutes of General Medical Sciences of the National Institutes of Health.
In the News
October 2, 2019
The fruit flies in Noah Whiteman's lab may be hazardous to your health. Whiteman and his University of California, Berkeley, colleagues have turned perfectly palatable fruit flies — palatable, at least, to frogs and birds — into potentially poisonous prey that may cause anything that eats them to puke. In large enough quantities, the flies likely would make a human puke, too, much like the emetic effect of ipecac syrup.