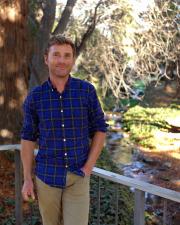 Noah Whiteman
Title
Associate Professor
Department
Dept of Integrative Biology
Research Expertise and Interest
adaptation
,
evolutionary biology
,
genomics
,
genetics
,
toxicology
,
insect biology
,
plant biology
,
microbiology
,
CRISPR-Cas9 genome editing
Research Description
Noah Whiteman's research group studies the molecular basis of adaptations arising from the ancient arms race between toxic plants and the animals and microbes that attack them. Their focus is on understanding the molecular bases (genetic, biochemical, physiological) of plant-insect chemical co-evolution, and specifically, how plant toxins are sensed and metabolized by animals. Most recently, they focused on plants that produce heart poisons that bind to the sodium potassium pump of animals. They used CRISPR-Cas-9 genome editing in Drosophila melanogaster to retrace the adaptive walk taken by monarch butterflies and their relatives as they colonized toxic milkweed plants. This allowed them to study how a series of adaptive mutations resulted in resistance to heart poisons in whole animal 'monarch flies' and revealed a biochemical mechanism for resistance. 
Another major research strand focuses on plants that produce mustard oils (like horseradish and wasabi) and the insects and bacteria that have colonized these plants. To better study these interactions, they have been developing genomic tools for an herbivorous relative of the fruit fly that eats only mustard leaves. These compounds are biomedically important because they result in neuroprotection against some degenerative diseases in animal models, including Parkinson's disease. The molecular mechanisms underlying sensation and metabolism of these compounds is therefore of general interest.
Finally, they study the evolution of specialization in herbivorous insects, using tools from both Arabidopsis and Drosophila to understand how fine-grained spatial variation in host plant chemistry across the landscape affects the evolution of host breadth in herbivores, using the mustard flies and their mustard hosts as models.
To pursue this research, they are supported by an Outstanding Investigator Award from the National Institutes of General Medical Sciences of the National Institutes of Health.
In the News
November 22, 2021
In a study appearing this week in the journal Current Biology, researchers at the University of California, Berkeley, and UC Riverside report monarch-like genetic mutations in the genomes of four organisms that are known to eat monarchs: the black-headed grosbeak, a migratory bird that snacks on the butterflies at their overwintering home in Mexico; the eastern deer mouse, a close relative of the Mexican black-eared deer mouse that feeds on butterflies that fall to the ground; a tiny wasp that parasitizes monarch eggs; and a nematode that parasitizes insect larvae that feed on milkweed.
October 2, 2019
The fruit flies in Noah Whiteman's lab may be hazardous to your health. Whiteman and his University of California, Berkeley, colleagues have turned perfectly palatable fruit flies — palatable, at least, to frogs and birds — into potentially poisonous prey that may cause anything that eats them to puke. In large enough quantities, the flies likely would make a human puke, too, much like the emetic effect of ipecac syrup.