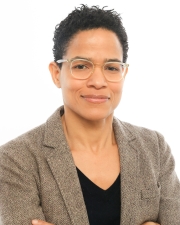 Nikki Jones
Department
Dept of African American Studies
Research Expertise and Interest
African American communities
,
policing
,
racial/gender disparities and the criminal justice system
,
violence and violence interventions
Research Description
Nikki Jones is Professor of African American Studies at UC-Berkeley. Her work focuses on the experiences of Black women, men, and youth with the criminal justice system, policing, and with various forms of violence. Professor Jones is the author of two books: Between Good and Ghetto: African American Girls and Inner-City Violence (2010) and The Chosen Ones: Black Men and the Politics of Redemption (June 2018), which was named a 2018 CHOICE Outstanding Academic Title. Her current research efforts are focused on the systematic analysis of video records that document routine encounters between police and civilians, with a focus on encounters that involve the police and Black youth in high-surveillance neighborhoods. These records are housed in the Justice Interaction Lab in the Department of African American Studies at UC-Berkeley. Professor Jones is also a faculty affiliate with the Center for Race and Gender; the Department of Women and Gender Studies; and the Center for the Study of Law and Society at UC-Berkeley.
In the News
July 28, 2020
As America reckons with how racial inequities permeate its core institutions, one such institution stands above — or below — the rest: the criminal justice system.