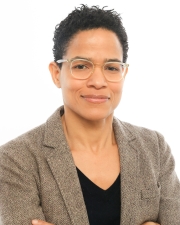 Nikki Jones
Department
Dept of African American Studies
Research Expertise and Interest
African American communities
,
policing
,
racial/gender disparities and the criminal justice system
,
violence and violence interventions
Research Description
Nikki Jones is Professor and H. Michael and Jeanne Williams Department Chair of African American Studies at UC-Berkeley. Her work focuses on the experiences of Black women, men, and youth with the criminal legal system, policing, and violence. Professor Jones is the author of two books: Between Good and Ghetto: African American Girls and Inner-City Violence (2010) and The Chosen Ones: Black Men and the Politics of Redemption (June 2018), which received the Michael J. Hindelang Outstanding Book Award from the American Society of Criminology in 2020. Her current research efforts are focused on the systematic analysis of video records that document routine encounters between police and civilians, with a focus on encounters that involve the police and Black youth in high-surveillance neighborhoods. These records are housed in the Justice Interaction Lab in the Department of African American Studies at UC-Berkeley. Professor Jones has shared her expertise with numerous print, radio, and television news media outlets, including NPR, KCBS Radio, Axios.com, History.com, BBC World Newshour, Minnesota Public Radio, Time Magazine, KQED's Forum, Ireland Today, Australia Broadcasting Corporation (The Drum), SF Weekly, The Dallas Morning News, and CNN's "The Lead with Jake Tapper," among others. Professor Jones is also a faculty affiliate with the Center for Race and Gender; the Department of Women and Gender Studies; and the Center for the Study of Law and Society at UC-Berkeley.
In the News
December 1, 2020
UC Berkeley African American Studies professor Nikki Jones has won the 2020 Michael J. Hindelang Award. The national honor given by the American Society of Criminology (ASC), recognizes a book published within the past three years that makes the most outstanding contribution to research in criminology.
November 4, 2020
UC Berkeley scholars awoke Wednesday, Nov. 4 to signs of a deeply divided U.S. electorate, and no blue wave on the horizon. Despite a surge in early voting, ballots were still being counted in several battleground states. As of noon that day, the race between President Donald Trump and his Democratic challenger Joe Biden remained too close to call. 
July 28, 2020
As America reckons with how racial inequities permeate its core institutions, one such institution stands above — or below — the rest: the criminal justice system.