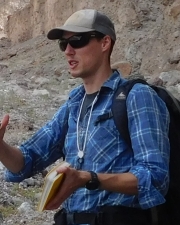 Nicholas Swanson-Hysell
Title
Assistant Professor
Department
Dept of Earth and Planetary Science
Research Expertise and Interest
geology
,
stratigraphy
,
paleomagnetism
,
paleogeography
Research Description
Prof. Swanson-Hysell is a geoscientist whose research integrates original field observations with laboratory data sets in order to further understanding of global change through time. His research group develops data from sequences of volcanic and sedimentary rocks where information can be extracted about the positioning of the continents, the evolution of the magnetic field, shifting dynamics of the carbon cycle and large changes in climate.
In the News
April 11, 2019
University of California scientists think they know why Earth's generally warm and balmy climate over the past billion years has occasionally been interrupted by cold snaps that enshroud the poles with ice and occasionally turn the planet into a snowball. The key trigger, they say, is mountain formation in the tropics as continental land masses collide with volcanic island arcs, such as the Aleutian Islands chain in Alaska.