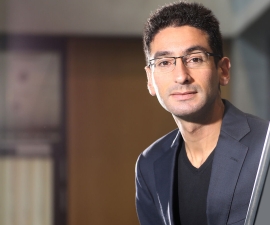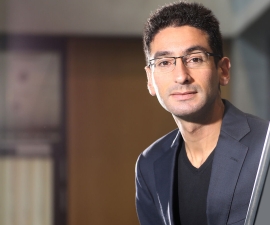 Research Expertise and Interest
film theory and history, digital media, aesthetics, critical theory, intellectual history, philosophy of history
Research Description
Nicholas Baer is an assistant professor in the Department of German and specializes in film and digital media, aesthetics, critical theory and intellectual history. 
His research has been supported through yearlong grants from the Fulbright Program, German Academic Exchange Service (DAAD), and Leo Baeck Institute / German Academic Scholarship Foundation (Studienstiftung). He has been an invited fellow at the Erich Auerbach Institute for Advanced Studies at the University of Cologne, Alfried Krupp Institute for Advanced Study in Greifswald, and Centre for Media, Communication and Information Research (ZeMKI) at the University of Bremen. In 2022, he delivered the Siegfried Kracauer Lecture in Film and Media Theory at Goethe University Frankfurt. During the 2023/24 academic year, he will spend a week as a Visiting Professor at the University of Paris 1 Panthéon-Sorbonne.
His first book, Historical Turns: Weimar Cinema and the Crisis of Historicism (University of California Press, forthcoming in 2024), examines the relation between cinema and the "crisis of historicism" widely diagnosed by German philosophers in the early twentieth century. In his new book project, The Ends of Perfection: On a Limit Concept in Global Film and Media Theory, he traces the conceptual history of perfection in global film and media theory. He has also co-edited two volumes of film and media theory: The Promise of Cinema: German Film Theory, 1907–1933 (University of California Press, 2016) and Unwatchable (Rutgers University Press, 2019).
He is a series editor of "The Key Debates: Mutations and Appropriations in European Film Studies" (Amsterdam University Press), for which he is currently co-editing a volume with Annie van den Oever on the philosophy of technology. He was awarded the Karsten Witte Prize for best film essay of the year from the Gesellschaft für Medienwissenschaft, and his writings have been translated into six languages. To view his publications, please click here.
Baer received his B.A. in Cinema and Media Studies from the University of Chicago and his Ph.D. in Film & Media and Critical Theory from the University of California, Berkeley. He was a Harper-Schmidt Fellow in the Society of Fellows at the University of Chicago, and he held faculty appointments at the State University of New York at Purchase, University of Groningen, and Utrecht University before joining Berkeley's Department of German in 2023.