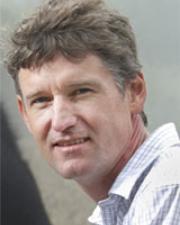 Research Expertise and Interest
climate change
,
endangered species
,
rangelands
,
political ecology
,
pastoralism
,
ranching
,
environmental history
,
suburbanization
,
human-environment interactions
,
environmental geography
,
range science and management
,
Southwestern US
,
scale
,
community-based conservation
Research Description
My research examines rangeland management from an historical, ecological, and critical geographical perspective. I work with ranchers and ecologists in the Southwestern US to understand how the reproduction of capital takes place on and through desert grasslands, mediated by biophysical processes (drought, grazing, vegetation and soils), political processes (public land management policies, wildlife conservation regulations), and management practices (grazing systems, infrastructural investments, prescribed fire, vegetation manipulations). I also work with community-based conservation organizations formed by ranchers to prevent subdivision of their landscapes for residential development and to restore and enhance grasslands.
In the News
November 19, 2020
On November 13th, the California Bureau of Cannabis Control (BCC), the lead state agency that regulates commercial licenses for both medical and adult-use cannabis, announced a wave of research grant funding at public universities. Researchers affiliated with the Berkeley Cannabis Research Center received $4.6 million in grants of the $30 million total that was awarded across the state. 
November 8, 2011
How to feed a fast-growing world where 900 million people are undernourished? Claire Kremen, a conservation biologist, sees traditional, sustainable practices as the solution. She and a group of Berkeley colleagues are establishing a new Berkeley Center for Diversified Farming Systems to find ways to scale up agroecological practices around the globe. A special report from the College of Natural Resources.