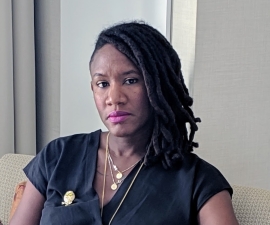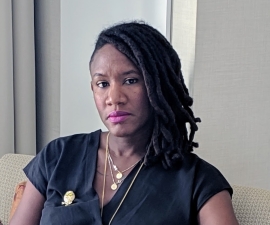 Research Expertise and Interest
Black diaspora literature and culture, Caribbean, gender and sexuality
Research Description
Nadia Ellis specializes in black diasporic, Caribbean, and postcolonial literatures and cultures.
Her book, Territories of the Soul: Queered Belonging in the Black Diaspora (Duke, 2015; Honorable Mention, William Sanders Scarborough Prize, MLA), explores forms of black belonging animated by queer utopian desire and diasporic aesthetics. It is a project built from a long-standing interest in following trajectories of literary cultures from the Caribbean to Britain to the United States. The work also developed through a preoccupation with several intersections, including those between queerness and diaspora, imperial identification and colonial resistance, performance and theory.
Published essays explore her work on queer and black performance, sexuality and the archive, and popular music, including Jamaican dancehall. Her work has been supported by fellowships and grants from such research bodies as the AAUW, the SSRC, and UC Berkeley's Hellman Fund and Townsend Center for the Humanities. She teaches courses on a range of topics within her fields and regularly offers classes connecting literary cultures to questions of the city, migration, and sexuality and gender. She has received the University's Distinguished Teaching Award (2020) and the American Cultures Innovation in Teaching Award (2016).  
The geographies of Ellis's training mirror (and have informed) her research interests: she received her PhD in English from Princeton; her M.Phil. in English from Oxford, and her B.A. in Literatures in English from the University of the West Indies (Mona) Jamaica.
.