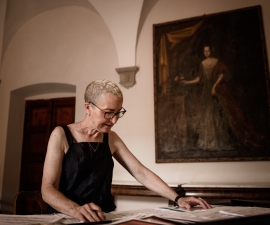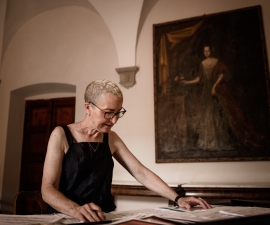 Research Expertise and Interest
music composition, improvisational practices, piano
Research Description
For nearly two decades, as a Professor of Composition and Improvisational Practices at UC Berkeley, Melford has pursued a philosophy that honors jazz and new-music traditions while emphasizing emerging developments in musical technique, theory, technology and performance.
The pianist, composer, bandleader and professor Myra Melford—whom the New Yorker called "a stalwart of the new-jazz movement"—has spent the last three decades making original music that is equally challenging and engaging. Culling inspiration from a wide range of sources including the blues of her native Chicago, the poetry of Fernando Pessoa, literature by Eduardo Galeano, visual art and architecture, innovative jazz artists such as Cecil Taylor and the Association for the Advancement of Creative Musicians (AACM), yoga, and Eastern philosophy. She's explored an array of formats, among them solo-piano recitals, deeply interactive combos and ambitious multidisciplinary programs. Her newest ensemble project, Fire and Water, debuted its critically acclaimed release, For the Love of Fire and Water, in April 2022 on RogueArt Records and has a second release coming in November 2023, Hear the Light Singing. The Other Side of Air, the 2018 release by her quintet Snowy Egret, was named one of the best jazz recordings of 2018 by the New York Times and one of NPR Music's 50 Best Albums of 2018. "This is music with an endless capacity for elasticity and surprise," NPR wrote, "along with an affirming spirit of coherence." She has received: a Fulbright Fellowship (2000), the Alpert Award in the Arts for Music (2012) a Guggenheim Fellowship for the evening-length multi-modal work Language of Dreams (2013), the Doris Duke Performing Artist Award (2013-16) and the Doris Duke Residency to Build Demand for the Arts (2013). She's appeared in the Down Beat Magazine and Jazz Journalists Association polls numerous times since 1990.
Since debuting on record as a bandleader in 1990, Melford has built a discography of more than 50 albums as a leader or co-leader, and side-person, and has collaborated with such luminary musicians as Nicole Mitchell, Joelle Leandre, Han Bennink, Miya Masaoka, Zeena Parkins, Lauren Newton, Stomu Takeishi, Rudy Royston, Fay Victor, Mary Halvorson, Tomeka Reid, Ingrid Laubrock, Susie Ibarra, Lesley Mok, Dave Douglas, Marty Ehrlich, Matana Roberts, Michael Formanek, Ches Smith, Liberty Ellman, Erik Friedlander, Fred Frith, Ben Goldberg, Joseph Jarman, Leroy Jenkins, Ron Miles, Tyshawn Sorey, Mary Oliver, Michael Sarin, Mark Dresser, Matt Wilson, Allison Miller, Scott Colley, Dayna Stephens, Jenny Scheinman, Chris Speed, Cuong Vu, Roscoe Mitchell, the Jazz at Lincoln Center Orchestra, members of the Chicago Symphony Orchestra, The San Francisco Contemporary Music Players, and the Eco Ensemble. As a young musician in New York City, Melford worked with Lawrence D. 'Butch' Morris and Henry Threadgill.
In addition to the Fire and Water quintet, Melford also leads a new trio with Michael Formanek and Ches Smith which she debuted in Berlin on June 3, 2023 at the Pierre Boulez Saal, and is co-leader with Allison Miller of Lux Quartet (featuring Scott Colley and Dayna Stephens). She also co-leads Tiger Trio (with Nicole Mitchell and Joëlle Léandre) and Trio M (with Mark Dresser and Matt Wilson).