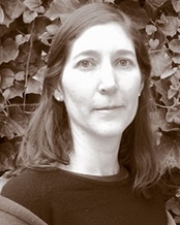 Miryam Sas
Title
Professor of Comparative Literature, Professor of Film & Media
Department
Dept of Comparative Literature
Dept of Film and Media
Research Expertise and Interest
20th century avant-gardes
,
Japanese literature
,
film
,
theater and dance
,
East Asia
,
media theory
,
contemporary art
,
critical theory
,
gender theory
Research Description
Miryam Sas is the author of Experimental Arts in Postwar Japan:  Moments of Encounter, Engagement, and Imagined Return and Fault Lines: Cultural Memory and Japanese Surrealism. She has published numerous articles on cross-cultural performance, futurism, film, literature, and butoh dance. She is currently writing a book on media theory and contemporary art in Japan. Before moving to Berkeley, Sas taught at Harvard University.
Recent and forthcoming articles:
Forthcoming: "The Culture Industry and Media Theory in Japan: The Enzensberger Moment," to be published in Media Theory in Japan, ed. Alex Zahlten and Marc Steinberg, Duke University Press.
Forthcoming: "Second Skin," on the Japanese photographer Ishiuchi Miyako, catalogue essay, Getty Institute, forthcoming fall 2015.
 "From  Postwar to Contemporary Art in Japan," catalogue essay in Roppongi Crossings: For a Landscape to Come, Heibonsha Publishers and Mori Museum of Art, Tokyo, fall 2013.
 "By Other Hands: Environment and Apparatus in 1960s Intermedia," chapter in Oxford Handbook of Japanese Cinema, ed. Daisuke Miyao, Oxford University Press, fall 2013.
 "Pink Feminism? The Program Pictures of Hamano Sachi," in The Pink Book, edited by Abé Markus Nornes (KineJapan Publications, 2014).
 "Intermedia 1955-1970," catalogue essay in Tokyo 1955-1970: A New Avant-Garde, Museum of Modern Art, New York, fall 2012.
"Violence and Cinematic Revolution (Ōshima Nagisa's Ninja Bugeichō, 1967)" article on experimental animation of the 1960s, Mechademia 7: Lines of Flight, University of Minnesota Press, fall 2012.