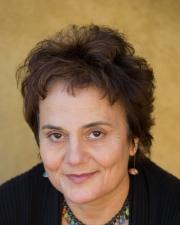 Minoo Moallem
Title
Professor; Director, Media Studies
Department
Dept of Gender and Women's Studies
Research Expertise and Interest
Transnational and Postcolonial Feminist Studies
,
cultural studies
,
Commodity Cultures
,
Visual and Material Cultures of Religion
,
Immigration and Diaspora Studies
,
Middle East Studies
,
and Iranian Studies
Research Description
Minoo Moallem is a Professor of Gender & Women's Studies at the University of California Berkeley. She is the author of Between Warrior Brother and Veiled Sister: Islamic Fundamentalism and the Cultural Politics of Patriarchy in Iran, University of California Press, 2005  and the co-editor (with Caren Kaplan and Norma Alarcon) of Between Woman and Nation: Nationalisms, Transnational Feminisms, and The State, Duke University Press, 1999. She is the guest editor of a special issue of Comparative Studies South Asia, Africa and the Middle East on the Iranian Immigrants, Exiles, and Refugees. Her most recent book is entitled  Persian Carpets: The Nation as a Transnational Commodity and was published by Routledge in 2018.
Professor Moallem has also ventured in digital media. Her digital project, "Nation-on-the Move" (design by Eric Loyer) was published in Vectors. Journal of Culture and Technology in a Dynamic Vernacular.  
Her most recent articles and book chapters include  "Gender and Culture," forthcoming in Wiley Blackwell Encyclopedia of Sociology, 2nd Edition; "Staging Masculinity in Iran-Iraq War Movies" in Handbook on Asian Cinema edited by Aaron Magnan-Park, Gina Marchetti and Tan See-Kam, Palgrave, 2018 ; "The Unintended Consequences of Equality Within Difference," Brown Journal of World Affairs, fall 2015; "Revisiting the Mostazaf and the Mostakbar," in Feminist Futures, New edition, Zed Press, 2016; Aestheticizing Religion: Sensorial Visuality and Coffeehouse Painting in Iran" in Sensational Religion edited by Sally Pomey, Yale University Press, 2015, and "Praying Through the Senses: The Prayer Carpet and the Converging Territories of the Material and the Spiritual," Material and Visual Cultures of Religion online publication, Yale University, 2014.
Professor Moallem received UC Berkeley Chancellor's Award for Public Service in 2010.