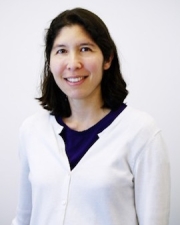 Michi Taga
Title
Associate Professor
Department
Dept of Plant and Microbial Biology
Research Expertise and Interest
molecular biology
,
genetics
,
microbial biology
,
chemical biology
,
cofactors
,
nutrient exchange
,
microbial communities
,
bacteria
Research Description
We study microbial nutritional interactions using corrinoids, the vitamin B12 family of molecules, as a model nutrient. We are investigating the biosynthesis of corrinoids, how bacteria obtain corrinoids from their environment, and the role of corrinoid sharing in microbial community dynamics. We use a combination of biochemistry, molecular biology, microbiology, modeling, and bioinformatics approaches to explore the molecular basis of corrinoid selectivity and the mechanisms and evolution of nutritional interactions.