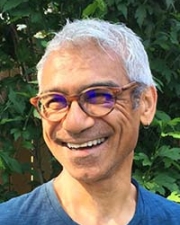 Michael Mascarenhas
Title
Associate Professor
Department
Dept of Environmental Science, Policy & Management
Research Expertise and Interest
postcolonial theory
,
development studies
,
environmental justice
,
critical race theory
,
Science and Technology studies
Research Description
His first book, Where the Waters Divide (Lexington Books, 2015), examines the market-based policies that produce inequitable water resource access for Canada's First Nations. His second book, New Humanitarianism and the Crisis of Charity: Good Intentions on the Road to Help (Indiana University Press, 2017), applies a similar methodological approach to investigate the privatization of humanitarian aid following disasters. Mascarenhas holds an MS in forestry from the University of British Columbia (UBC) and a PhD in sociology from Michigan State University. He was a postdoctoral fellow at the Centre for Applied Ethics at UBC and has held teaching appointments at Kwantlen Polytechnic University and Rensselaer Polytechnic Institute. In over a dozen publications, he has written on water, wolves, seed-saving, standards, supermarkets, public participation, family farms, and forests. His current research and book project examines water access in the cities of Flint and Detroit. Mascarenhas was an expert witness at the Michigan Civil Rights Commission in 2017 on the Flint Water Crisis, and an invited speaker to the National Academies of Sciences, Engineering, and Medicine's Committee on Designing Citizen Science to Support Science Learning.