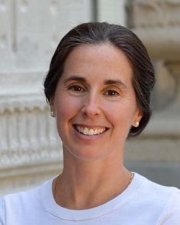 Meredith Fowlie
Department
Dept of Agricultural & Resource Economics
Research Expertise and Interest
energy markets
,
climate change mitigation
,
climate change adaptation
,
air pollution
Research Description
Fowlie does research at the intersection of energy and environmental economics. She is particularly interested in understanding how markets and policy can be designed to accelerate meaningful and equitable climate change mitigation and adaptation. 
In the News
February 23, 2021
Californians not only pay some of the highest electricity rates in the country, but they pay two-to-three-times more for power than it costs to provide, according to a new report by researchers at the Energy Institute at Haas and the non-profit think tank Next 10.
June 24, 2015
Philomathia Innovation Seed Fund recipients Catherine Wolfram and Meredith Fowlie carried out a rigorous study that found surprisingly low savings relative to costs in part of a nationwide effort to improve home energy-efficiency.