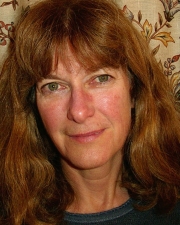 Mary E. Power
Title
Professor of Integrative Biology, Director, California Biodiversity Center, Faculty Manager, Angelo Coast Range Reserve
Department
Dept of Integrative Biology
Research Expertise and Interest
freshwater ecology
,
food webs
,
trophic dynamics
,
northern California rivers
,
watersheds
Research Description
My research interests center on river food webs. I have studied interactions among fish, birds, amphibians invertebrates, and algae in temperate and tropical rivers. I am particularly interested in how attributes of species affect food web structure and dynamics, and how food web interactions change with environmental context. We have studied, for example, the interplay of trophic dynamics with hydrologic and productivity regimes in northern California rivers, as well as impacts of invading alien species. Much of our current field work takes place in the Eel River, based out of the Angelo Coast Range Reserve in Mendocino, CA.  The Angelo Reserve, managed by UC Berkeley, is one of the University of California Natural Reserve System's 40 research and teaching reserves.  Angelo currently hosts collaborative teams of researchers studying the interaction of landscapes and ecosystems over long and short time scales.  Currently, Earth scientists and ecologists are studying how climate, topography, vegetation cover and lithology affect water cycling and storage; including storages and slow release of water that can maintain streamflow during drought.   My students and I link to their efforts in order to forecast landscape settings and climate conditions that may flip river food webs from ones based on primary production by edible diatoms that support salmonids and their invertebrate prey, to webs dominated by potentially toxic cyanobacteria, which may be becoming more prevalent under extreme low flow.  We are also investigating how the fluxes of organisms and materials that link tributaries, mainstems, uplands, and the coastal ocean will respond to changes in biota, land cover, or climate across river networks.