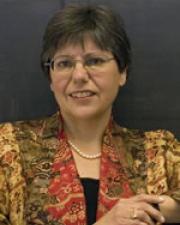 Mary Comerio
Title
Professor of the Graduate School
Research Expertise and Interest
disaster recovery
,
housing impacts in disasters
,
loss modeling
,
performance based design
Research Description
Mary Comerio is an internationally recognized expert on disaster resilience and recovery. She has been on the faculty in the Department of Architecture at U. C. Berkeley for 40 years and has served as Chair. She worked as an architect on numerous public and private facilities, which led to her research on seismic rehabilitation, post-disaster recovery and reconstruction, loss modeling and resilience-based design.  She led the FEMA sponsored Disaster Resistant University Program, and the Building Systems Research with Helmut Krawinkler at the Pacific Earthquake Engineering Research (PEER) Center.  Comerio also served at co-PI on one of the National Science Foundation's Grand Challenge projects focused on the mitigation of collapse risk in nonductile concrete buildings. Her building inventory and loss-modeling led to the creation of the Los Angeles "Resilience by Design" plan.
She is the author of Disaster Hits Home: New Policy for Urban Housing Recovery (UC Press, 1998), and hundreds of other research reports and scientific papers. In 2011, she received the Green Star Award from the United Nations for her work in post-disaster reconstruction in China and Haiti. In 2013, she received the U. C. Berkeley Chancellor's Award for Public Service for Research in the Public Interest, and the EERI Distinguished Lecturer Award. She was made an honorary member of the Structural Engineers Association of Northern California and the Earthquake Engineering Research Institute in 2018 and 2019, respectively. She is a past- president of the Earthquake Engineering Research Institute, and is currently on the Governing Board of the QuakeCoRE Center for Earthquake Resilience in New Zealand. She has recently served on the steering committee for National Institute of Science and Technology (NIST) Report on "Research Needs to Support Immediate Occupancy Building Performance Following Natural Hazard Events" (NIST SP #1224), and is currently on the FEMA-NIST Steering Committee to develop a report on "Functional Recovery of the Built Environment and Critical Infrastructure." In 2019, she was a Visiting Professor at Sapienza, University of Rome in the Department of Structural and Geotechnical Engineering. She consults internationally on disaster recovery and resilience planning.