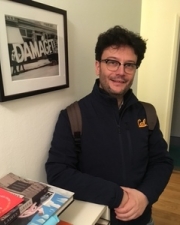 Mario Telò
Department
Dept of Ancient Greek & Roman Studies
Research Expertise and Interest
Greek literature
,
Roman drama
,
critical theory
Research Description
Mario Telò is a professor in the Department of Classics and UC Berkeley.  He spent eight years at UCLA as an assistant and associate professor of classics. His research interests cover the full range of Greek literature, with occasional incursions into Roman drama. After working for a number of years on Greek comedy, he has now finished a book-length project on Greek tragedy entitled Archive Feelings: A Theory of Greek Tragedy, which takes his interests in affect, materiality, and psychoanalysis in a new direction, exploring how contemporary theorizations of the archive (especially Derrida's Mal d'Archive) and the death drive (in Freud as well as Bersani, Butler, Edelman, Deleuze, Lacan, and Zizek) can help us understand the affective experience of tragedy. The book will appear in 2020 in the series "Classical Memories/Modern Identities" (ed. Paul Allen Miller and Richard H. Armstrong) published by Ohio State University Press. I am now working on a new project on Aristophanes and contemporary political theory, organize around readings of Birds, Frogs, Lysistrata and Women at the Thesmophoria.
Other projects involve sound and the narrative unconscious in Heliodorus's Aethiopica; the materiality and symbolism of the title object in Plautus's Rudens and Hitchcock's The Rope; Old Comedy and the death drive. A short monograph on Querolus is under contract with Bloomsbury, and with Melissa Mueller, he has coedited a volume entitled The Materialities of Greek Tragedy: Objects and Affect in Aeschylus, Sophocles, and Euripides (Bloomsbury 2018). He is  currently the chief editor of the journal Classical Antiquity (http://ca.ucpress.edu). He also write for the Italian newspaper Il Sole 24 Ore.