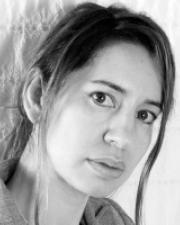 Maria Paz Gutierrez
Title
Associate Professor
Research Expertise and Interest
natural waste composites and additive manufacturing
,
flood resilience
,
multifunctional building systems
,
biologically inspired technologies
Research Description
Maria Paz Gutierrez, Associate Professor and Director of the Undergraduate Program of Architecture at UC Berkeley is an architect and researcher focused on nature and multifunctional material systems aimed at addressing pressing 21st century environmental and socioeconomic challenges. Her research group BIOMS, pioneers the physical and cultural implication of functional natural and living materials. These functional natural materials are designed from the nano to the macro scale to transform the health and resilience of the built environment. Her work has been published in leading scientific journals, including Science and Scientific Reports (Nature), exhibited nationally and internationally, and widely covered in the press, including in Science Nation. Her exhibitions include the Oslo Architectural Triennale 2014 and the Field Museum in Chicago. Gutierrez's prestigious accolades include the 2010 Emerging Frontiers of Research Innovation Award from the U.S. National Science Foundation 2014 Buckminster Fuller Award semifinalist. Gutierrez is a Fulbright NEXUS Scholar and was appointed as Senior Fellow of the Energy Climate Partnership of the Americas by the U.S. Department of State from 2011-2016. Gutierrez has two provisional patents and a forthcoming book, Regeneration Wall (Taylor & Francis, 2020).
In the News
July 1, 2021
Maria Paz Gutierrez has begun to explore the potential of using lichens rather than plants as living air purifiers, and installing them along interior walls, rather than exterior walls.  With support from the Bakar Fellowship Program, Dr. Gutierrez aims to fabricate small-scale "lichen building blocks" and test their capacity to purify indoor air. She describes her unorthodox approach and what drew her to it.
April 25, 2011
María-Paz Gutierrez, a University of California, Berkeley, assistant professor of architecture, has been named to the 2011-2012 Fulbright Regional Network for Applied Research (NEXUS) Scholar Program as part of a 20-member team working to promote best practices in fighting poverty and inequality in the Western Hemisphere. She will be focusing on building a sustainable, affordable housing prototype for deployment in an emergency, especially flooding.
August 26, 2010
A UC Berkeley team has been awarded a $2 million National Science Foundation (NSF) grant for research on biologically-inspired technologies for grey water reuse and thermal energy management that may propel sustainable building into a new era.The grant comes from the NSF's Emerging Frontiers in Research and Innovation's 2010 Science in Energy and Environmental Design program for engineering sustainable buildings. Leading UC Berkeley's award-winning research team as principal investigator is Maria Paz-Gutierrez, assistant professor of architecture in the College of Environmental Design, and the only architect serving as principal investigator for any of the NSF's eight EFRI-SEED grants this year.