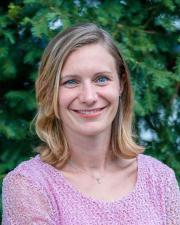 Manuela Girotto
Title
Assistant Professor
Department
Dept of Environmental Science, Policy & Management
Research Expertise and Interest
hydrologic response
,
natural and human driven processes
,
remote sensing
,
sea level change
,
snow hydrology
Research Description
Hydrologic response and interaction between natural and human driven processes, land surface remote sensing and multi-sensor, -spectrum, -resolution data assimilation; hydrology contribution to sea level change, snow hydrology.
In the News
June 2, 2022
For years, UC Berkeley snow hydrologist Manuela Girotto has combined disparate remote sensing datasets from satellites into models to understand snow as a water resource. In an era of extreme drought and climate change, her work is increasingly urgent. A recent rapid expansion of available observations from space could unlock important insights. But integrating that amount of data into researchers' existing models is difficult. So when Berkeley computer science doctoral candidate Colorado Reed reached out asking how artificial intelligence could help, she saw an opportunity.