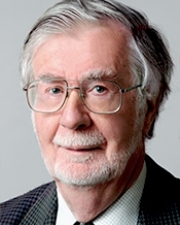 Malcolm Potts
Title
Professor of the Graduate School
Research Expertise and Interest
public health
,
maternal and child health
,
health and social behavior
Research Description
David Malcolm Potts is a human reproductive scientist and Professor at the School of Public Health. He was the founding director of the Bixby Center for Population, Health, and Sustainability and of the OASIS Initiative at the School.
In the News
November 14, 2019
In a new commentary published in Nature, three UC Berkeley researchers and their coauthors argue that without considerable government investment in four areas—family planning, girls' education, agriculture, and security—Western Sahel countries' political and economic systems could collapse. In a region with widespread hunger and malnutrition, rising food and economic insecurity could pave the way for famines, mass migration, and violent conflict. Only by investing heavily in forward-looking programs, the researchers argue, can governments avert serious disruptions down the line.
April 9, 2013
The vast region of Africa known as the Sahel will descend into large-scale drought, famine, war and terrorist control if immediate, coordinated steps are not taken to avert the perfect storm of climate change and the most rapidly growing population in the world.