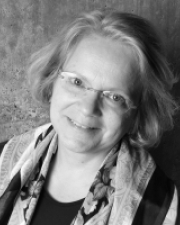 Louise Mozingo
Department
Dept of Landscape Architecture & Environmental Planning
Research Expertise and Interest
urban design and planning
,
design history
,
social and cultural factors in landscape design
Research Description
Louise Mozingo is Professor of the Landscape Architecture and Environmental Planning. She is a member of the Graduate Group in Urban Design of the College of Environmental Design and Director of the American Studies program of the College of Letters and Sciences at the University of California, Berkeley. She was named a Richard and Rhoda Goldman Distinguished Professor of Undergraduate and Interdisciplinary Studies in 2017. A former Associate and senior landscape architect for Sasaki Associates, Prof. Mozingo joined the department after a decade of professional practice. In 2009 she became the founding director of a research interdisciplinary team at the College of Environmental Design, the Center for Resource Efficient Communities (CREC) dedicated to supporting resource efficiency goals through environmental planning and urban design. www.crec.berkeley.edu
Professor Mozingo's articles and reviews have appeared in the New York Times, Places, Landscape Journal, Journal of the History of Gardens and Designed Landscapes, Landscape Architecture Magazine, Geographical Review, and theJournal of the Society of Architectural Historians.  She has contributed chapters to Everyday America: Cultural Landscape Studies after J.B. Jackson (2003) edited by Chris Wilson and Paul Groth, Healing Natures edited by Robert France (2008), and Worlds Away: New Suburban Landscapes(2008) edited by Andrew Blauvelt. Mozingo's book, Pastoral Capitalism: A History of Suburban Corporate Landscapes (MIT Press), won 2011 American Publishers Award for Professional and Scholarly Excellence (PROSE Award) in the Architecture and Urban Planning category, the 2014 Elisabeth Blair MacDougall Prize from the Society of Architectural Historians for the best book in landscape history, and an American Society of Landscape Architects Honor Award for Communications in 2014.
Professor Mozingo has been the recipient of Harvard University's Dumbarton Oaks Fellowship for Studies in Landscape Architecture, the Council of Educators in Landscape Architecture Award of Recognition for Excellence in Teaching, Writing, and Service, and the University of California, Berkeley Chancellor's Award of Recognition for University and Community Partnerships. She has lectured widely, including Harvard University, University of British Columbia, University of Oregon, Yale University, Stanford University, MIT, and the National Building Museum, Washington, D.C.