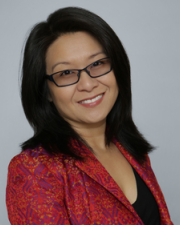 Lok Siu
Title
Associate Professor
Research Expertise and Interest
diaspora
,
transnationalism
,
migration
,
cultural citizenship
,
un/belonging
,
racial and ethnic and gender formation
,
Chinese diaspora
,
Asians in the Americas
,
cultural politics of food
,
ethnography
Research Description
Lok Siu is a cultural anthropologist and Associate Professor of Ethnic Studies at UC Berkeley. Her areas of expertise include Asian diasporas in the Americas, Chinese diaspora, belonging and cultural citizenship, ethnography, and the cultural politics of food. Her books, Memories of a Future Home: Diasporic Citizenship of Chinese in Panama and Asian Diasporas: New Formations, New Conceptions (co-edited with Rhacel Parreñas), received the Social Science Book Award from the Association for Asian American Studies in 2007 and 2009. Other books include Gendered Citizenships: Transnational Perspectives on Knowledge Production, Political Activism, and Culture and Chinese Diaspora: Its Development in Global Perspective. She has lectured at universities throughout the US and at museums such as the Smithsonian, the Museum of Food and Drinks in NYC, the Chinese American Museum in LA, and the California African American Museum. She has appeared in CNN's United Shades of America with Kamau Bell and on WNYC's Brian Lehrer show. She is currently completing her book manuscript, Worlding Asian Latinx: Intimate Publics of Cultural Mixing.