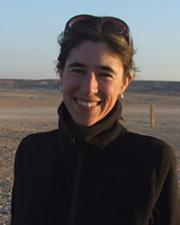 Lisa Maher
Title
Associate Professor
Research Expertise and Interest
archaeology
,
hunter-gatherers
,
prehistory
,
geoarchaeology
,
landscape use
,
stone tools technology
,
emergence of social complexity
,
ancient technology
Research Description
Lisa Maher is a prehistoric archaeologist in the Department of Anthropology who has been working in the eastern Mediterranean and Southwest Asia for twenty years. She is involved in research all over the globe and directs several excavation projects in Jordan, most recently at a 20,000-year old hunter-gatherer aggregation site that is the largest Palaeolithic site in region and with the countries earliest hut structures and human burials. She has also recently started a project in Cyprus exploring the island's earliest sea-faring hunter-gatherer groups. Specializing in geoarchaeology, ancient technologies, and cultural heritage conservation, she is interested in the intersections between past landscapes and people, from our earliest human ancestors to the present.
In the News
March 14, 2019
The pre-Columbian city of Cahokia was once among the most populous and bustling settlements north of Mexico. But by 1400 A.D., Cahokia's population had dwindled to virtually nothing. While theories abound about what happened to the indigenous people of Cahokia, AJ White, a Ph.D. student in anthropology at UC Berkeley, has studied ancient poop samples to connect the city's 13th century population plunge – at least in part – to climate change.
February 21, 2012
Archaeologists working in eastern Jordan have announced its discovery of 20,000-year-old hut structures, the earliest yet found in that country.