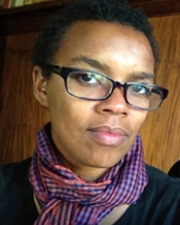 Leigh Raiford
Title
Associate Professor
Department
Dept of African American Studies
American Studies Program
Research Expertise and Interest
social movements
,
visual culture
,
memory
,
photography
,
African American history and culture
Research Description
Raiford is the author of Imprisoned in a Luminous Glare: Photography and the African American Freedom Struggle (University of North Carolina Press, 2011) and is co-editor with Renee Romano of The Civil Rights Movement in American Memory (University of Georgia Press, 2006). Her work has appeared in numerous academic journals, including American Quarterly, History and Theory, English Language Notes and NKA: Journal of Contemporary African Art; museum exhibit catalogs including Edward Kienholz, Five Card Stud 1969-1972, Revisited, (Los Angeles County Museum of Art, 2011) and the edited collection Only Skin Deep: Changing Visions of the American Self, (Harry N. Abrams Press, 2003), a history of race and photography in the United States; and news outlets including Ms. Magazine and AlJazeera English online.
In the News
January 14, 2021
The Department of African American Studies is excited to announce that it has been selected as one of sixteen recipients of the Andrew W. Mellon Foundation's Just Futures grant. This grant is a collaborative effort to address racial inequality through new humanities-based research & solutions.
September 6, 2011
African American activists have long recognized the potential power of visual imagery to advance their quest for self-determination. Faculty member Leigh Raiford, in a new book, explores the role of photography in the black freedom struggle — from the heyday of the white lynch mob to the Civil Rights movement and the Black Power era.