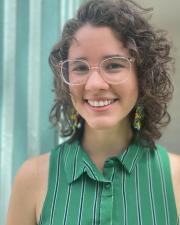 Laurent Reyes
Title
Assistant Professor
Research Expertise and Interest
civic participation
,
community based research
,
visual methods
,
aging
,
immigration
,
Latinx older adults
,
Black older adults
,
intersectional life course perspective
,
systems of oppression
,
access to healthcare
Research Description
Research Description
Dr. Laurent Reyes is an assistant professor in the School of Social Welfare, a scholar in the Latinx and Democracy Cluster at UC Berkeley, and a member of UCSF Emancipatory Sciences Lab. She comes to UC Berkeley from Rutgers University, where she received her MSW and PhD in Social Work with a focus on Aging and Latinx communities.  She is also a former Robert Wood Johnson Foundation (RWJF) Health Policy Research Scholar (HPRS), a leadership development program for doctoral students from historically marginalized backgrounds who want to apply their research to advance health and equity. 
As an activist scholar and storyteller, Dr. Reyes leans on qualitative and visual methods to listen and narrate lifetime stories of resistance and solidarity among Latinx and Black elders to re-imagine civic participation from their perspective and lived experience. The goal of this research is to shift socio-political focus and resources towards the work and solutions that historically oppressed communities have developed to survive and thrive in the context of systemic oppression and ethnoracial persecution. To do this, Dr. Reyes works with community members, artists, and non-profit organizations to weave these stories and support the ongoing movement towards liberation.
To learn more about this work visit: ourwayoflifearchive.com