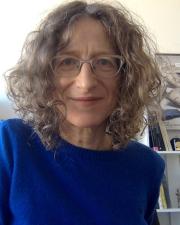 Laura Sterponi
Department
Berkeley School of Education
Research Expertise and Interest
language and literacy socialization
,
communication of and with children with autism
,
doctor-patient interaction
Research Description
Laura Sterponi is a Professor of Language, Literacy and Culture. She is a scholar of language in action and social interaction. She combines methods from Interactional Linguistics, Conversation Analysis, and Linguistic Anthropology to investigate naturally occurring uses of language, oral and written, in a range of institutional contexts and with different populations. The study of language-in-interaction provides a means through which the moment-by-moment production, reproduction and transformation of human experience and sociocultural phenomena can be systematically investigated. Thus, her scholarship leverages micro-analysis of interactional practices to engage more macro issues, such as linguistic competence in autism, language and literacy ideologies in educational settings, communication in healthcare encounters. Throughout her career she has designed her empirical work to yield theoretical insights on language and literacy as well as practical guidelines for teachers', doctors', and social workers' professional development.