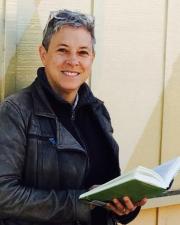 Kristina Hill
Title
Associate Professor
Department
Dept of Landscape Architecture & Environmental Planning
Research Expertise and Interest
landscape architecture and environmental planning
,
urban design
,
urban ecology
,
surface hydrology
,
groundwater
,
sea level rise
,
climate change
,
adaptation
,
environmental justice
,
adaptation to flooding
Research Description
Kristina Hill is a professor in the Department of Landscape Architecture & Environmental Planning.  She studies changes in environmental conditions as a result of urbanization and climate change, and develops urban design approaches, infrastructure strategies, and habitat conservation strategies that allow coastal regions to adapt to increased extent or frequency of flooding. In her work, she partners with local communities and government agencies. Most of her current partners are in the San Francisco Bay Area, but she has also recently worked in Denmark, coastal Virginia, and New Zealand. She has made it a priority to work with low-income communities and communities of color, because they are often disproportionately impacted by sea level rise. She is a member of the State of California's Sea Level Rise Task Force.
In the News
October 24, 2017
Since we don't yet know how fast and how high sea levels are going to rise because of climate change, our strategies must be ready and adaptive as conditions change, according to UC Berkeley urban designer Kristina Hill.