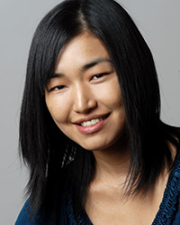 Kimiko Ryokai
Title
Associate Professor
Research Expertise and Interest
design
,
human-computer interaction
,
user experience research
Research Description
Kimiko Ryokai's research focuses on building new expressive tools that take advantage of people's familiarity with the physical world, and studying how new media expand the interaction space and the change that could be brought out in the way people perceive this extended interaction space. For example, my research project, "I/O Brush: The World as a Palette," is an ongoing effort to design and develop tools that enable people to turn their world into a color palette consisting not only of colors, but also textures, movements, and sounds. My research investigates the potential of new interactive media that pushes us to actively expand the way we perceive the world and make new meanings.