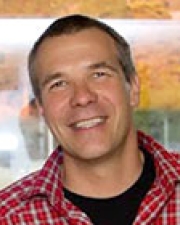 Karsten Gronert
Title
Professor & Chair Vision Science Program
Research Expertise and Interest
inflammatory diseases
,
innate immune responses
,
lipid mediators
,
lipidomics
,
leukocytes
,
inflammatory resolution
,
eicosanoids
,
omega-3 PUFA
,
Dry Eye
,
Keratitis
,
lipxoygenase
,
cycloooxygenase
,
resolution pharmacology
,
neuroprotection
,
adaptive immunity
,
glaucoma
Research Description
Research efforts in my laboratory are part of a new paradigm that has established lipid circuits as critical regulators for the successful execution of innate and adaptive immune response. These lipid circuits are essential early response signals that maintain tissue homeostasis, help remodel injured tissue, removes spent leukocytes, promotes macrophage housekeeping function, naturally terminate acute inflammatory response and control T cell function. Intense research efforts by a small group of research teams around the world has spurred enormous interest in these resident protective lipid circuits (SPM) as a major target for the development of much needed novel drugs for the treatment of inflammatory and immune diseases. Our research team has focused on elucidating the role of these endogenous protective circuits in ocular inflammatory and immune responses and neuroprotection and to define their critical regulation by polymorphonuclear leukocytes (PMN), dietary omega-3 PUFA and sex steroids. The role of clinically important lipid circuits in eye is rapidly expanding and many questions about their regulation and molecular mechanism of action remain to be answered. Our current research efforts have uncovered that lipoxins are a predominant SPM in lymph nodes. We discovered a LXA4-PMN lymph node circuit that controls routine adaptive immune responses to ocular surface stress. Sex-specific regulation of this resident and protective lymph node circuit is a key factor for amplified effector T cells responses to ocular stress in females, which the focus of a NEI sponsored research project. Research in my laboratory employs innovative approaches and state-of-the art technology to discover and define the regulation and endogenous role of protective lipid mediator circuits. A unique and long-standing expertise of my research group is LC/MS/MS-based lipidomics and lipid mediator bioinformatics. In a continuous effort to discover the role of lipid mediator in ocular health our research team in a collaborative effort identified a previously unknown resident lipoxin circuit in the retina. We discovered that astrocyte release lipoxins to directly protect ganglion cells against neurotoxic and oxidative stress. This critical astrocyte function is impaired when astrocytes are stressed in vitro or in animal glaucoma models. More importantly, therapeutic amplification of this retinal lipoxins circuit stops retinal ganglion cell function in a pre-clinical glaucomatous injury model. How this novel retinal lipoxin circuit is regulated, its mechanism of action and therapeutic potential are the focus of an ongoing collaborative research project.  The long-term goals of our work are aimed at defining the role and regulation of protective lipid mediator programs in health and understand how these intrinsic circuits are dysregulated in diseases.
In the News
November 6, 2017
Vision scientists have discovered that naturally occurring molecules known as lipid mediators have the potential to halt the progression of glaucoma, the world's second-leading cause of blindness.