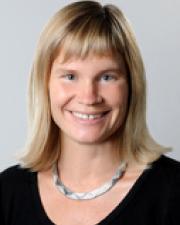 Kara L. Nelson
Title
Professor of Environmental Engineering
Department
Dept of Civil and Environmental Engineering
Research Expertise and Interest
water and wastewater treatment
,
water reuse
,
detection and inactivation of pathogens in water and sludge
,
appropriate technologies
Research Description
Kara Nelson is a Professor in Civil and Environmental Engineering at the University of California, Berkeley.  She received her B.A. degree in biophysics from U.C. Berkeley, her M.S.E. degree in environmental engineering from the University of Washington, and her Ph.D. in environmental engineering from U.C. Davis. Her research program addresses critical issues at the intersection of public health and the environment, with a focus on reducing the threat posed by waterborne pathogens by improving our engineering infrastructure to make it more effective, affordable, as well as maximize its environmental benefits.  Specific research areas include mechanisms of pathogen inactivation, molecular techniques for pathogen detection, optimizing treatment processes, water reuse, and challenges with providing safe drinking water and sanitation in the developing world.
Dr. Nelson has published over 50 articles in peer-reviewed journals, including two invited reviews, and one book chapter. She is the Director of Graduate Education at the Engineering Research Center for Reinventing our Nation's Urban Water Infrastructure (ReNUWIt), and the faculty leader of the Research Thrust Area on Safe Water and Sanitation at Berkeley Water Center.  Dr. Nelson was awarded the Presidential Early Career Award for Scientists and Engineers (PECASE) at a ceremony in the White House in 2004.  This award is the nation's highest honor for scientists in the early stages of their career.  She currently conducts research in the United States, India, Bangladesh, Kenya, and Panama. 
In the News
October 29, 2020
Since the discovery that people infected with COVID-19 often shed the virus in their feces, scientists around the world have scrambled to spot signs of the virus in the stuff that we flush. However, detecting tiny virus particles amid the wastewater that flows through our sewage pipes — which includes not only toilet water, but sink water, shower water and everything else that goes down a drain — is no easy feat.
June 24, 2020
Current efforts to track the spread of COVID-19 have largely relied on individual testing and hospital admission numbers. However, these data do not detect trends in the virus's spread in the greater population, including those who are asymptomatic.
August 27, 2018
California today issued its latest assessment of the many challenges the state faces from climate change — including wildfires like those still raging throughout the state – and highlighted for the first time the regional impacts with nine deep-dive reports spearheaded by University of California scientists.