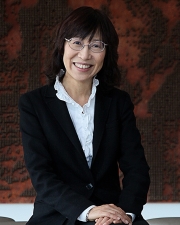 Research Expertise and Interest
Japan
,
anthropology
,
archaeology
,
climate change
,
sustainability
,
East Asia
,
Jomon hunter-gatherers
Research Description
Junko Habu is a professor of Anthropology, the Tomoye Takahashi Endowed Chair in Japanese Studies, and Chair, Center for Japanese Studies.  She conducts research on human-environmental interaction, human rights, and the long-term sustainability of human cultures and societies in the past and present. Using the theoretical framework of historical ecology, her research focuses on the importance of food and subsistence diversity, social networks and local autonomy for understanding the resilience of socioeconomic systems.
Her archaeological projects in Japan, including the Berkeley Sannnai Maruyama Project and the Goshizawa Matsumori Project, examine the mechanisms of long-term culture change among prehistoric Jomon hunter-gatherers (ca. 14,000-500 BC). From 2014 to 2017, she was the leader of the Small-scale Economies Project, a three-year collaborative project that involved in transdisciplinary studies of archaeological sites as well as modern-day rural communities and small-scale food production units, with an emphasis on the importance of traditional ecological knowledge reflected in material culture.
As an environmental archaeologist and anthropologist working on Japan, she has also been working on the study of the impacts of the Great East Japan Earthquake of March 11, 2011 and the Fukushima Nuclear Accident. In collaboration with local scholars and stakeholders, she uses insights obtained from these projects to develop outreach and implementation programs to promote place-based, small-scale and diversified food production. For more information, please visit: https://junkohabu.com/