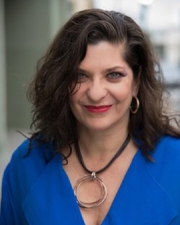 Juana María Rodríguez
Title
Professor and Chair
Research Expertise and Interest
race and sexual politics
,
LGBTQ communities
,
Latino/a/x and Caribbean literatures and cultures
,
women of color feminisms
,
queer activism in the Americas
,
transgender studies
,
sex work
Research Description
Juana María Rodríguez is the author of two books, Queer Latinidad: Identity Practices, Discursive Spaces (NYU Press, 2003) and Sexual Futures, Queer Gestures, and Other Latina Longings (NYU Press 2014) which won the Alan Bray Memorial Book Prize at the Modern Language Association and was a Lambda Literary Foundation Finalist for LGBT Studies. In 2019, she co-edited a special issue of TSQ: Transgender Studies Quarterly on "Trans Studies en las Americas." In addition to her publications in academic journals internationally, her work has been featured in Aperture; NPR's Latino USA, NBC.com, Canadian News Network, The Chronicle of Higher Education, and Cosmopolitan for Latinas. She is completing a book on visual culture and Latina sexual labor, under contract with Duke University Press.
In the News
November 4, 2020
UC Berkeley scholars awoke Wednesday, Nov. 4 to signs of a deeply divided U.S. electorate, and no blue wave on the horizon. Despite a surge in early voting, ballots were still being counted in several battleground states. As of noon that day, the race between President Donald Trump and his Democratic challenger Joe Biden remained too close to call. 
June 15, 2020
The U.S. Supreme Court on Monday ruled that federal anti-discrimination law protects gay, lesbian and transgender people from job and employment discrimination, for the first time extending protections to LGBTQ people in every state.