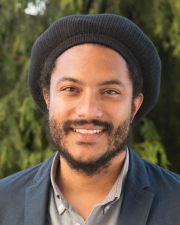 Jovan Lewis
Title
Assistant Professor
Department
Dept of African American Studies
Dept of Geography
Research Expertise and Interest
Jamaica and the USA; constructions and infrastructures of poverty
,
inequality
,
race (blackness)
,
economy
,
and the market
Research Description
Jovan Scott Lewis (Ph.D., London School of Economics) is an economic anthropologist who works in the field sites of Tulsa, Oklahoma and Montego Bay, Jamaica. His research examines the cultural mechanisms, institutional forms, and social practices through which an unequal living of, and coping with, the economy, its failures and contingencies are understood. Central to this inquiry is an exploration of contemporary inequality, which supports a generative definition of the economy in which poverty and race informs its articulation and spatial organization. Working between the US and the Caribbean, Jovan's research endeavors toward an understanding of the political economy of inequality and race within the black diaspora.
At Berkeley Jovan works across the departments of African-American Studies and Geography, and the Economic Disparities Research Cluster of the Haas Institute for a Fair and Inclusive Society.