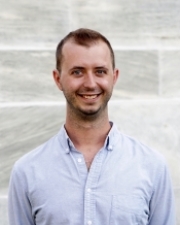 Joseph Lewnard
Title
Assistant Professor
Research Expertise and Interest
infectious diseases
,
antimicrobial resistance
,
public health surveillance
,
mathematical modeling
,
Bayesian inference
Research Description
Joseph Lewnard studies the transmission dynamics of infectious disease agents and the effectiveness of interventions such as vaccination. To these ends, he uses mathematical and statistical modeling and collaborate closely with investigators leading field studies and disease surveillance. Much of his work centers around the impacts of pneumococcal conjugate vaccines on Streptococcus pneumoniae (an antigenically-diverse pathogen and leading cause of invasive disease, pneumonia, and upper respiratory infections), and lessons for future vaccines targeting limited subsets of pathogen strains. Other ongoing projects address the selection of antimicrobial resistance in pneumococcus, group A Streptococcus, and other commensal pathogens; the re-emergence of vaccine-preventable diseases such as mumps in recent years; and the transmission ecology and prevention of various neglected tropical diseases.
In the News
December 2, 2020
Many farmworkers who plant and harvest our food are forced to live and work under conditions that are ripe for transmission of COVID-19. During the summer harvest season, coronavirus outbreaks popped up across the nation among farmworkers in agricultural communities, including many in California.
May 26, 2020
Hospitalized COVID-19 patients in the U.S. are enduring longer hospital stays and facing higher rates of intensive care unit (ICU) admission than patients in China, finds a new study led by researchers at the University of California, Berkeley, and Kaiser Permanente.
April 29, 2020
Childhood vaccination may be a powerful tool in the fight against antimicrobial resistance in low- and middle-income countries, finds a new analysis led by researchers University of California, Berkeley.