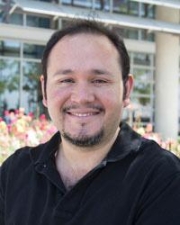 José Pablo Vázquez-Medina
Title
Assistant Professor
Department
Dept of Integrative Biology
Research Expertise and Interest
marine mammals
,
pre-clinical models of disease
Research Description
José Pablo Vázquez-Medina is an assistant professor in the Department of Integrative Biology at UC Berkeley.  He studies mechanisms of adaptation to natural and anthropogenic stressors in marine mammals and pre-clinical models of disease at the cellular and organismal level. His research group's goal is to understand the role of oxidant stress and redox signaling in physiological adaptation. Current projects include 1) physiological consequences of chronic stress exposure in marine mammals, 2) cellular mechanisms underlying the diving response and 3) role of peroxiredoxin 6 in acute and chronic inflammation.
In the News
October 14, 2020
English has become the de facto language of science: International conferences are held in English, the world's top scientific journals are in English and academics in non-English speaking countries get promoted based on their publications in English language journals. Even scientific jargon is in English — most non-English speakers use English terms and don't bother inventing equivalent words in their native languages.