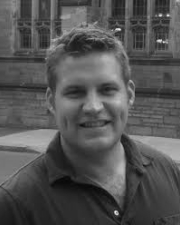 Jeremy Magruder
Title
Associate Professor
Department
Dept of Agricultural & Resource Economics
Research Expertise and Interest
development economics
,
agriculture in developing countries
,
labor markets
,
social networks in developing countries
Research Description
Jeremy Magruder is an Associate Professor in the Department of Agricultural & Resource Economics, at UC Berkeley.  He studies the microeconomics of agricultural productivity and labor markets in developing countries.  His research focuses on understanding the market frictions and constraints to employment and productivity growth that are abundant in the developing world.  These frictions include a heavy reliance on social networks as an intermediating institution, and much of his research examines how individuals use social networks to enhance and inhibit productive outcomes in development. 
In the News
September 4, 2012
A new study by UC Berkeley economists analyzed restaurant ratings on Yelp.com and found that, on a scale of 1 to 5, a half-star rating increase translates into a 19 percent greater likelihood that an eatery's seats will be full during peak dining times. The study, published this month in the Economic Journal, found that the increase is independent of changes in price or in food and service quality.