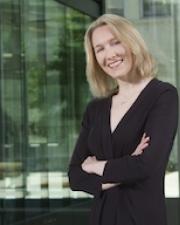 Jennifer Urban
Title
Clinical Professor of Law; Director, Samuelson Law, Technology & Public Policy Clinic
Research Expertise and Interest
intellectual property
,
privacy
,
copyright
,
artists' rights
,
free expression
,
notice and takedown
,
free and open source licensing
,
defensive patent licensing
,
DMCA
,
patent
,
how technical and policy design affect privacy and other social values
Research Description
Jennifer M. Urban is Clinical Professor of Law and Director of the Samuelson Law, Technology & Public Policy Clinic at the UC Berkeley School of Law. Broadly, her research considers how values such as free expression, freedom to innovate, and privacy are mediated by technology, the laws that govern technology, and private-ordering systems. Many of her recent papers are available on the Social Science Research Network.
Professor Urban's clinic students represent clients in numerous public interest cases and projects at the intersection of technological change and societal interests such as civil liberties, innovation, and creative expression. Recent Clinic projects include work on individual privacy rights, copyright and free expression, artists' rights, digital libraries, free and open source licensing, government surveillance, the "smart" electricity grid, biometrics, and defensive patent licensing.