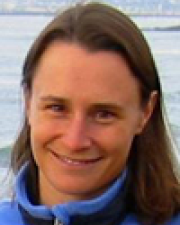 Jennifer Ahern
Title
Assistant Professor of Epidemiology
Research Expertise and Interest
mental health
,
epidemiology
,
social epidemiology
,
population health
,
neighborhood characteristics and health
,
methodological issues and novel methodological applications in social
,
traumatic events
,
substance use
,
behavioral health
,
birth outcomes and maternal health
Research Description
I conduct research in social epidemiology, a field that examines social and structural aspects of our environments, our interactions with one another, and how these phenomena shape our health and well-being. My work focuses specifically on understanding the vulnerabilities imposed on populations by social circumstances and the various ways these vulnerabilities may manifest in well-being or poor health, with a focus on factors that could be targeted for intervention. Complementing this content work, I propose and apply novel methodologic approaches to improve the quality and interpretability of research in social epidemiology.