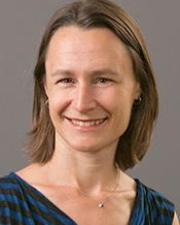 Research Expertise and Interest
mental health
,
epidemiology
,
social epidemiology
,
population health
,
neighborhood characteristics and health
,
methodological issues and novel methodological applications in social
,
traumatic events
,
substance use
,
behavioral health
,
birth outcomes and maternal health
Research Description
Dr. Jennifer Ahern, PhD MPH, is Associate Dean for Research and Professor of Epidemiology at University of California, Berkeley, School of Public Health. She examines the effects of the social and physical environment, and programs and policies that alter the social and physical environment, on many aspects of health (e.g., violence, substance use, mental health, and gestational health). Dr. Ahern has a methodological focus to her work, including application of causal inference methods and semi-parametric estimation approaches, aimed at improving the rigor of observational research, and optimizing public health intervention planning. Her research has been supported by a New Innovator Award from the National Institutes of Health (NIH), Office of the Director.
In the News
January 11, 2022
The Chan Zuckerberg Biohub announced today (Jan. 11) the second cohort of scientists to be named CZ Biohub Investigators, 21 of whom are UC Berkeley faculty members.
November 19, 2019
Teen girls in South Africa face an extraordinary threat of HIV: By the time they reach adulthood, one in four South African girls will have contracted the virus, and most are first infected during adolescence. Experiencing depression puts these girls at even higher risk of HIV infection, reveals analyses led by researchers at the University of California, Berkeley, and based on a longitudinal study led by colleagues at the University of North Carolina and the University of the Witwatersrand, South Africa.