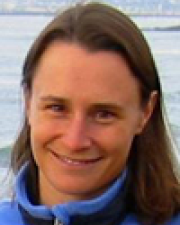 Jennifer Ahern
Title
Assistant Professor of Epidemiology
Research Expertise and Interest
mental health
,
epidemiology
,
social epidemiology
,
population health
,
neighborhood characteristics and health
,
methodological issues and novel methodological applications in social
,
traumatic events
,
substance use
,
behavioral health
,
birth outcomes and maternal health
Research Description
I conduct research in social epidemiology, a field that examines social and structural aspects of our environments, our interactions with one another, and how these phenomena shape our health and well-being. My work focuses specifically on understanding the vulnerabilities imposed on populations by social circumstances and the various ways these vulnerabilities may manifest in well-being or poor health, with a focus on factors that could be targeted for intervention. Complementing this content work, I propose and apply novel methodologic approaches to improve the quality and interpretability of research in social epidemiology.
In the News
January 11, 2022
The Chan Zuckerberg Biohub announced today (Jan. 11) the second cohort of scientists to be named CZ Biohub Investigators, 21 of whom are UC Berkeley faculty members.
November 19, 2019
Teen girls in South Africa face an extraordinary threat of HIV: By the time they reach adulthood, one in four South African girls will have contracted the virus, and most are first infected during adolescence. Experiencing depression puts these girls at even higher risk of HIV infection, reveals analyses led by researchers at the University of California, Berkeley, and based on a longitudinal study led by colleagues at the University of North Carolina and the University of the Witwatersrand, South Africa.