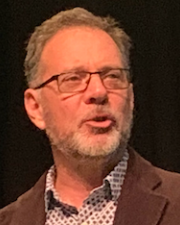 James Hurley
Department
Dept of Molecular & Cell Biology
Research Expertise and Interest
Structural Biology
,
reconstitution
,
membrane biology
,
autophagy
,
HIV
,
x-ray crystallography
,
cryo-electron microscopy
Research Description
The interplay between proteins and membrane lipids is central to almost every aspect of cell biology. This laboratory is interested in fundamental questions of how the interactions between proteins and membranes determine cell and organelle shape and the evolution of shape over time, how protein-membrane interactions turn on and off the signals that control essential cell processes, and how pathogens such as HIV-1 subvert and co-opt these interactions. They currently focus on  (1) autophagy and lysosomes, (2) ESCRT proteins and their role in virus release, and (3) coated vesicle traffic and its subversion by HIV. The major tools used in the lab are cryoelectron microscopy (cryo-EM) and fluorescence microscopy of reconstituted membrane systems.