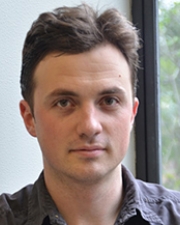 James Analytis
Title
Assistant Professor
Research Expertise and Interest
Experimental Condensed Matter Physics
Research Description
Our research focuses on the discovery and understanding of exotic materials manifesting novel quantum phenomena that have both fundamental and technological implications, particularly superconductors, exotic magnets and topological insulators. Many of the physical problems we are interested in transcend a single material. Each compound can lend a new insight into a given question. Where possible, our strategy is to use materials as a tool to get to scientifically important problems by designing and tuning their properties.
Our understanding of condensed matter physics is driven by the discovery of new materials. Before the discovery of high-temperature superconductivity in the cuprates, few would have suspected that oxides would harbor such a variety of quantum properties, and before the availability of high-mobility GaAs, none predicted the spectacular properties of the fractional quantum Hall states. My lab's focus is to create materials with properties that are at the boundary of our understanding of condensed matter physics.
In the News
September 29, 2021
In 1965, Gordon Moore of Intel predicted that microprocessors would double in speed and capacity every couple of years. This prediction, now known as "Moore's Law," has with some modification in 1975 been reliably prophetic until now. We're fast approaching the limits of Moore's Law at the same time as demands on microprocessor performances are continuing to grow at an ever more rapid pace. The solution may be in a burgeoning technology whose name reads like a character in the Marvel Universe – magnonics. Bakar Fellow James Analytis believes magnons can be harnessed to meet future needs for high-speed, high-fidelity and energy-efficient data-processing that surpasses the limits of Moore's Law.