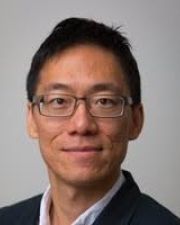 Jack Tseng
Title
Assistant Professor
Department
Dept of Integrative Biology
Research Expertise and Interest
paleontology
,
jaws
,
bite force
,
macroevolutionary trends and patterns
,
mammals
,
vertebrates
Research Description
Jack Tseng is an assistant professor in Integrative Biology.  Research in his laboratory is focused on understanding the macroevolutionary-scale patterns of structure-function relationships in mammals and other vertebrate groups. Projects in his lab include analysis of variables such as diet, evolutionary relationships and non-masticatory functional constraints and their interplay on the structure and function of the skull as a feeding tool. He uses methodologies such as landmark-based shape analysis (geometric morphometrics), model-based assessments of feeding performance (finite element analysis) as well as experiment-based model validation approaches (mechanical testing and kinematics analysis). He also conducts field-based and collection-based research on extinct mammal groups to understand the influence of inter-continental dispersals on the evolution of predator lineages. His fieldwork areas including Wyoming (Eocene), Inner Mongolia (Neogene), Tibetan Plateau (Neogene), Mexico (Neogene), and southern China (Paleocene).
In the News
May 5, 2022
Of the hundred or so known species of hyena — living and extinct — that stalked the earth, all have been meat eaters or omnivores except one, the aardwolf, which, mysteriously, eats termites. What happened in the history of fearsome hyenas that led one group to give up raw meat and turn to insects? Two fossil skulls of a 12- to 15-million-year-old hyena that once lived in the Gansu province of China may shed light on that mystery.
June 2, 2021
Juvenile Tyrannosaurus rex had a jaw force of about 5600 newtons, somewhere between the jaw forces exerted by a hyena and a crocodile, and about 10 times the force of a teenage human.