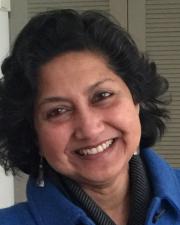 Isha Ray
Title
Associate Professor
Department
Dept of Energy & Resources Group
Research Expertise and Interest
Water and development; Gender
,
water and sanitation; technology and development
Research Description
Professor Ray's research interests are water, sanitation and development; water and gender; technology and development; and common property resources. Her research projects focus on access to water and sanitation for the rural and urban poor, and on the role of technology in improving livelihoods. She teaches courses on research methods in the social sciences, water and development, technology and development, and community-driven development. In addition to research and teaching, she has extensive past and ongoing experience in the non-profit sector on sustainable development, water, and gender equality.
In the News
June 23, 2011
San Joaquin Valley communities with large Latino populations are exposed to disproportionately high levels of the agricultural chemical nitrate through their drinking water, according to a UC Berkeley study. When ingested via drinking water, nitrate can lead to numerous health problems, particularly among women and young children.