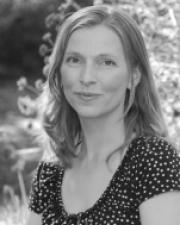 Iryna Dronova
Title
Associate Professor
Department
Dept of Environmental Science, Policy & Management
Dept of Landscape Architecture & Environmental Planning
Research Expertise and Interest
landscape ecology
,
remote sensing
,
GIS
,
spatial analysis
,
urban geography
,
ecosystem change
,
biodiversity
,
ecosystem services
,
wetlands
,
urban regions
,
landscape dynamics
Research Description
Iryna Dronova is an associate professor jointly appointed in the Departments of Environmental Science, Policy & Management (Rausser College of Natural Resources) and Landscape Architecture & Environmental Planning (College of Environmental Design). She is interested in diverse aspects of landscape ecology and its potential to inform sustainable, multi-functional landscape-designs and decision-making in environmental planning. Her research combines field ecological methods with remote sensing, geographic information systems (GIS) and spatial analysis to perform analyses of multi-scale structure of ecosystems, to facilitate scaling of ecological processes from local to regional levels and to develop remote sensing-based monitoring approaches for vulnerable areas and sites with limited field access. She is especially interested in developing new conceptual and practical frameworks for spatially heterogeneous and highly dynamic landscapes, both wildland and human-modified (including urban regions). Since May 2017 she is also an affiliate Professor of Geography at UC Berkeley Department of Geography.
In the News
March 13, 2022
Since Putin's invasion of Ukraine just over two weeks ago, payments to Russia for fossil fuels have already exceeded 9 billion euros ($10 billion) from European Union member states alone, according to the Europe Beyond Coal's tracker. And while the war in Ukraine came as shocking news to many, the involvement of the fossil fuel industry in a global disaster is no longer unfamiliar.