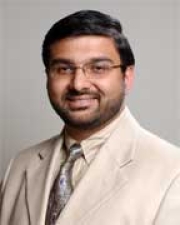 Irfan Siddiqi
Title
Associate Professor of Physics
Research Expertise and Interest
condensed matter physics
,
superconducting qubits
,
quantum limited amplifiers
,
quantum circuits
Research Description
Our group, the Quantum Nanoelectronics Laboratory, investigates the quantum coherence of various condensed matter systems ranging from microscopic nanomagnets such as single molecule magnets to complex macroscopic electrical circuits. To measure the electric and magnetic properties of these quantum systems, we are developing novel microwave frequency quantum-noise-limited amplifiers based on superconducting Josephson junctions formed by both oxide tunnel barriers and weak links.
In the News
March 6, 2019
Physicists have used a seven-qubit quantum computer to simulate the scrambling of information inside a black hole, heralding a future in which entangled quantum bits might be used to probe the mysterious interiors of these bizarre objects.
September 26, 2017
For the past few years, researchers at Lawrence Berkeley National Laboratory have been exploring a drastically different kind of computing architecture based on quantum mechanics to solve some of science's hardest problems.