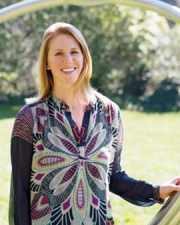 Helen Bateup
Title
Associate Professor
Department
Dept of Molecular & Cell Biology
Research Expertise and Interest
molecular and cellular neuroscience
,
neurodevelopmental disorders
,
autism
,
epilepsy
,
Parkinson's disease
Research Description
Helen Bateup is an associate professor in the Department of Molecular and Cell Biology.  Her research include the following:
The ability of neurons to dynamically alter their activity in response to changes in the internal or external environment is fundamental to our brain's capacity to learn and adapt. Importantly, this remarkable plasticity must be balanced by mechanisms that ensure stable activity at the level of neural circuits. Understanding the molecular machinery that allows neurons to both be dynamic and maintain balance is a fundamental goal of Helen Bateup's research group. Perturbations in neural circuit plasticity and homeostasis are associated with several neurological and psychiatric disorders including autism spectrum disorder and epilepsy. Therefore, a main focus of Bateup's lab work is to understand how molecular changes associated with these diseases lead to unbalanced neural activity.