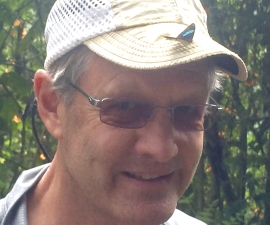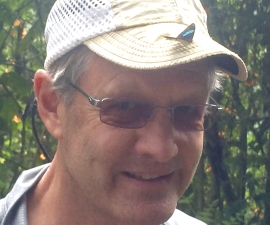 Research Expertise and Interest
global change, environmental science, sustainability, biodiversity, invasive species, population genomics
Research Description
Professor Roderick joined the faculty at UC Berkeley in 1999, He received his AB in biology from Dartmouth College in 1981 and PhD in zoology from UC Berkeley in 1987.  He held positions previously at the University of Maryland, College Park, and University of Hawaii, Manoa.  
Professor Roderick chaired the Department of Environmental Science, Policy and Management, 2014-2019 and currently is the Faculty Director for UC's Gump South Pacific Research Station in French Polynesia.  He currently teaches the ecology section of introductory biology (Bio1B) as well as field courses, including Berkeley's "Moorea Course".
Professor Roderick holds the William Muriece Hoskins Professorship of Chemical and Molecular Entomology.  He is the recipient of the 2013 College of Natural Resources Distinguished teaching award and shared the 2010 Western Association of Agricultural Experiment Station DirectorsAward for Excellence in Research. Professor Roderick is Fellow of the California Academy of Sciences, Fellow of the Royal Entomological Society, London, Senior Research Fellow with the Center for Tropical Research, Institute of the Environment, UCLA, a member of the Center for Invasive Species Research, UC Riverside, and former Fulbright Scholar and Foreign Researcher with INRA, France. He has served the State Department, National Science Foundation, US Environmental Protection Agency, and US Department of Agriculture, including chairing the first Asian Pacific Economic Cooperation (APEC) forum on Alien Invasive Species involving 17 economies in Beijing in 2005.
Professor Roderick's research has appeared in Science, Nature, Nature Reviews Genetics, Philosophical Transactions of the Royal Society, Ecosphere, Global Ecology and Biogeography, Global Change Biology, Ecological Applications, Journal of Biogeography,  Biological Invasions, GigaScience, Ecology, Ecology Letters, American Naturalist, Annual Review of Entomology, Trends in Ecology and Evolution, Molecular Ecology, Biological Control, Genetics, Evolution, Current Biology, PLoS Biology, PLoS One, Peer J, Zootaxa, and other journals.  He has edited two books, Evolution and Biological Control (2012) and DNA Barcoding of Life (2005).