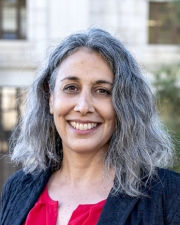 Geeta Anand
Title
Dean, Graduate School of Journalism
Research Expertise and Interest
journalism
,
health care
,
equity
,
social justice
,
politics
,
ethics
,
media
,
disinformation
,
India
,
international affairs
Research Description
Geeta Anand is a Pulitzer Prize-winning journalist and author who serves as dean and professor at Berkeley Journalism. Her stories on corporate corruption won the Wall Street Journal a Pulitzer Prize in 2002, and she was lead reporter in a series on healthcare that was a finalist in 2003. She wrote the non-fiction book, The Cure, about a dad's fight to save his kids by starting a biotech company to make a medicine for their untreatable illness, which was made into the Harrison Ford movie Extraordinary Measures in 2010. She worked as a journalist for 27 years, most recently as a foreign correspondent for The New York Times and the Wall Street Journal in India. She began her career at a free weekly newspaper, Cape Cod News, and then covered local government and courts at the Rutland Herald in Vermont. At her next job at the Boston Globe, she served as City Hall bureau chief and then covered the Massachusetts State House. She spent the next 17 years as a reporter and senior writer for the Wall Street Journal, where she covered the biotech beat and focused on investigative reporting. She spent nearly a decade in India, the country where she was born and raised, first as a foreign correspondent for the Journal and then The New York Times. 
In the News
September 19, 2022
With the U.S. midterm elections approaching and political disinformation posing a continued threat to democracy, UC Berkeley's ambitious new Our Better Web initiative, launched on a small scale in April, is advancing efforts to study and combat online harms including deception, discrimination and child exploitation.
September 7, 2022
The UC Berkeley Graduate School of Journalism will launch a $25 million, state-funded fellowship program this spring that aims to support and strengthen local reporting in underserved and historically underrepresented areas across the state.
April 4, 2022
Together with a leadership team with specialties in law, algorithms, computer science and public policy, Berkeley Journalism has formed a multipronged initiative, "Our Better Web" to study and inform legislation on disinformation and illegal activities on social media platforms.