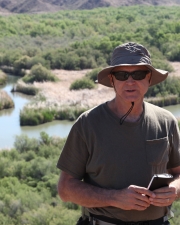 G. Mathias Kondolf
Title
Professor of Environmental Planning
Department
Dept of Landscape Architecture & Environmental Planning
Research Expertise and Interest
ecological restoration
,
landscape architecture
,
environmental planning
,
fluvial geomorphology
,
hydrology
,
environmental geology
,
environmental impact assessment
,
riparian zone management
Research Description
G. Mathias Kondolf is a fluvial geomorphologist and Professor of Environmental Planning in UC Berkeley's College of Environmental Design, director of the Sustainable Environmental Design major, and former chair of the Department of Landscape Architecture and Environmental Planning.  He teaches courses in hydrology, river restoration, environmental science, and environmental planning.  He researches human-river interactions, including managing flood-prone lands, urban rivers, sediment in rivers and reservoirs, and river restoration, topics on which he has published over 200 journal articles, books, book chapters, and reports.  He has provided expert testimony before the US Supreme Court, US Congress, California legislature, California Water Resources Control Board, International Court of Justice (the Hague), Permanent Court of Arbitration (the Hague), and other legal proceedings in the US.  He has served on two National Academy of Science panels, the Calfed Ecosystem Restoration Science Board, and the Environmental Advisory Board to the Chief of the US Army Corps of Engineers. He was appointed as the Clarke Scholar at the Institute for Water Resources of the US Army Corps, and as a fellow of the Landscape Architecture Foundation, and received the Award of Distinction from the Council of Educators in Landscape Architecture, two awards from the Fulbright Commission, and a senior research fellowship from the EURIAS Fellowship Programme and the European Commission (Marie-Sklodowska-Curie Actions - COFUND Programme - FP7).